The SiriusDecisions Demand Unit Waterfall® is a useful framework for managing opportunities through every stage of the marketing and sales funnel. Because it focuses on accounts, rather than individual leads, it is especially useful for planning and tracking your ABM strategy.
Like most advanced business strategies today, the success of the Demand Unit Waterfall and ABM rely on data. Lots of it. And, it turns out, event marketers are in an excellent position to capture that data and help drive ROI for the organization.
There's no question that Account-Based Marketing (ABM) is a hot topic this year. The strategy—which involves deep alignment between Marketing and Sales teams to better target, nurture, and convert your most valuable accounts—has been around for a while, but is finally seeing its heydey in large part because of technology that facilitates team alignment and personalization at scale.
In our recent webinar, SiriusDecisions Senior Research Analyst Jonathan Tam discussed key data and metrics for optimizing your ABM strategy. Afterwards, we caught up with Tam to gain a better understanding of why event marketers should care about the Demand Unit Waterfall. Read on to learn more about the seven stages of the Waterfall, and the role event data plays in each.
BUT FIRST, WHY DEMAND UNITS?
ABM is an especially effective strategy for B2B companies targeting Enterprise accounts, where buying typically involves multiple decision makers spread across multiple departments.
"Account-based marketing is about targeting buying groups within accounts, or more specifically individuals or personas that make up that buying group to address a need," Tam explained. "In order to determine success, organizations have to roll-up individual activity to this buying group level to truly understand performance."
SiriusDecisions calls this buying group the Demand Unit. Figuring out who is in the Demand Unit can be one of the most challenging parts of an Enterprise sales strategy, and it's no different with ABM. As you'll see below, this is one of many areas that can be informed by event data.
THE WATERFALL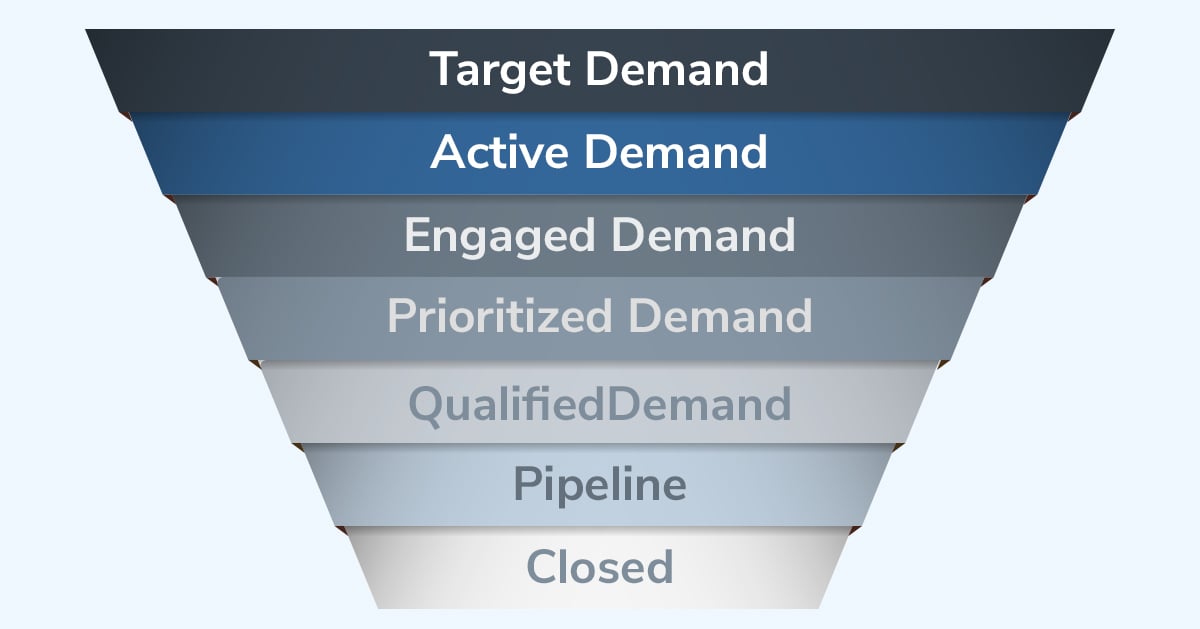 Launched in 2017, the Demand Unit Waterfall® was based on SiriusDecisions' popular Demand Waterfall®, but re-envisioned to focus on accounts rather than individual leads. It organizes the account journey into seven stages:
Target Demand — This is the total possible market for your solution. This stage is all about identifying all the potential demand units for your solution. To do this successfully, your teams need to understand what types of organizations are a good fit for your solution.
Active Demand — Active demand is the subset of your target demand that you want to engage—the accounts your sales team has decided are worth targeting, or pursuing. Organizations use a variety of data to identify active demand, including the history with similar accounts or with other demand units within that account, the likely size of the opportunity, and potential revenue.
Engaged Demand — Engaged demand represents demand units that have shown an interest in your organization or solution either digitally or in person; for example, by opening an email, responding to your social media, visiting your website, or speaking to a rep at an event. To fully understand your engaged demand, you need to be able to view and aggregate engagement data from all your channels. During this stage, Marketing works to nurture members of the demand unit through targeted tactics and programs.
Prioritized Demand — These are the accounts that your sales team has determined are ready for sales engagement, usually because they have reached a certain threshold of marketing engagement. For instance, a company might decide that once three members of the demand unit have downloaded an asset or attended a webinar with the company, they have shown sufficient interest across the demand unit for a salesperson to reach out. Of course, your sales team wants to make that contact as relevant as possible so the more data they have about the individuals within the demand unit and their previous engagements with your company, the better!
Qualified Demand — When one or more members of a demand unit have confirmed their interest, fit, and timeline for purchase, the demand unit becomes a qualified demand. The sales process enters the next stage, with Sales focusing on other members of the demand unit who need more information to buy in.
Pipeline — The account enters the pipeline when Sales can apply a value and close date to the opportunity.
Closed — The sale is complete and revenue has been generated!
WHY SHOULD EVENT MARKETERS CARE?
In its 2019 Data Benchmark Study, Freeman found that event marketers are extremely savvy at using data. In fact, the report found that 74% of event marketers use data to inform marketing strategy (compared to 54% of brand marketers) and 60% of event marketers marketers use data to drive leads (compared to just 35% of brand marketers).
And events are great sources of data.
"By nature, (physical) events are 1:1, and are ripe for deriving insights through conversation, whether at a large trade show, or smaller forums and user groups," Tam explained. "Insights could include information around needs and challenges for specific buyer roles and individuals, or it may also include insights around who makes up the buying group, and what is the relationship between them," said Tam. "Behavioral level activity and data is also important to determine where in the process a buying group or an account is, and will help decide next steps from an engagement standpoint."
This combination of opportunity and experience positions event marketers to not only obtain data to help sales refine their ABM strategy, but also to refine your event strategy to better support ABM goals.
Here are some examples:
Waterfall Stage/Goals
Event Data
Target Demand - Better understand the audience for your solution.
- Lead interaction data by solution area

Active Demand - Evaluate target accounts for both fit and opportunity

- Interaction history with account

Engaged Demand - Determine how the demand unit is interacting with your organization and nurture active demand with relevant content

- Lead interaction data by role, across events
- Lead interaction data by account, across events
- Account interaction data by solution area
Prioritized Demand - Score the account based on demand unit member interactions
- Lead interaction data by account, across events
Qualified Demand - Confirm demand unit member buying readiness
- Explicit buying signals captured at the event

Pipeline - Target other members of the demand unit with relevant information

- Lead interaction data for demand unit members
- Lead interaction data for similar roles from other companies
Close - Celebrate and use learnings to optimize future events and ABM strategy
- Event attendance by account
- Event interactions by account
PULLING IT ALL TOGETHER
"The Demand Unit Waterfall focuses on buying groups and tracking the engagement across multiple individuals within the buying group, instead of relying on one individual as a 'lead,'" concluded Tam. "Putting this together, event marketers and the data they're able to collect from events plays a key role in not only understanding the buying group, but also tracking and progressing that buying group through the waterfall. By shifting the focus of events from 'lead capture' to 'buying group enhancement,' event marketers can play a bigger role in the overall demand management within an organization, and capitalize on the amount of spend, effort and time that is already going into events."

The best way to do that? In our humble opinion, use a process and tools that allow you to capture account-level insights at events, and easily make them available to your broader marketing and sales teams.