Our last webinar, A Digital Marketer's Guide to Navigating CCPA, provided companies with actionable advice and steps toward becoming CCPA compliant. What came as a shock, was how unprepared the vast majority of our attendees were for the privacy law.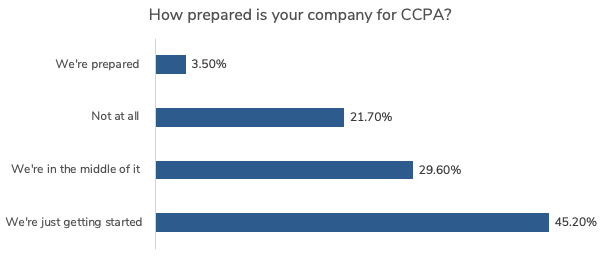 With less than 4% of our attendees claiming to be prepared for CCPA, only weeks before the law went into action, it's clear that adjusting marketing programs for privacy-compliance is no small task. If you're a part of the 96%, you'll have to act fast because while the law will not be enforced until June this year, your campaigns, and your company could be liable today. Watch our webinar replay to get the full picture of CCPA requirements and how it affects your integrated marketing tactics, as well as your an action plan for compliance.
To see where your company currently sits with CCPA and identify your compliance gaps, take the CCPA Maturity Assessment for Digital Marketers, presented by our partners at Iron Horse Interactive.